Choosing the right email marketing platform is one of the most important things to do when starting with email marketing.
But oftentimes, with all the vast number of options out there, you can get a little confused about which one to choose.
In this post, we're going to talk about two of the most recommended email marketing tools in the online business space namely Convertkit and ActiveCampaign.
Why?
Because they just have a lot to offer and have a very good reputation (which is very important in email marketing).
How to Define "Best"?
When we talk about ConvertKit vs ActiveCampaign and compare them together, you'd realize that the latter is a clear winner.
Just because it offers a lot… like just a lot more than the former.
But that's not the point, the point is how many of those features do you actually need in your particular business to move forward & grow.
See there are two types of "best".
Firstly, a "generalized" best. Which is the best for the whole population.
Secondly, best for "you" in particular. which serves your business, needs, requirements, and budget.
And when it comes to these two tools, one might be best for one group of people, while the other for another group of people.
You just have to decide which one is best for you and your business.
This is exactly what we're going to help you do with this post. So let's first talk about…
What is Convertkit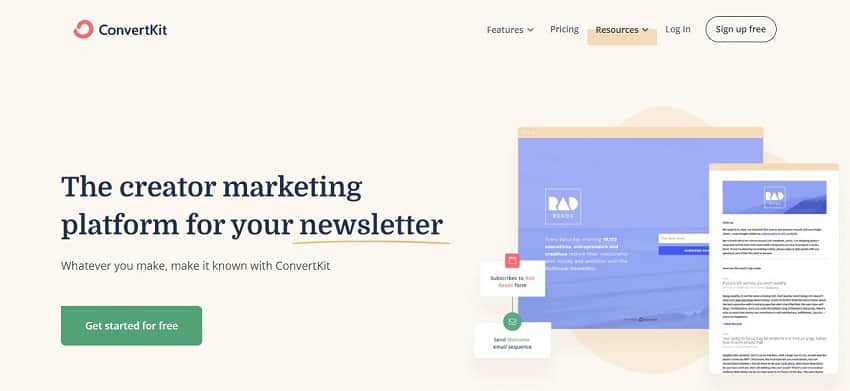 If you haven't heard of Convertkit before, then don't worry! It's pretty new on the market (Compared to ActiveCampaign). But it already has amazing popularity among creators.
It was founded by Nathan Barry back in 2013. And since its launch, he's been working hard at making sure his product gets better every single day.
The reason why it got popular is simple – it does so much stuff really well and in a very simple manner.
Some of the features of ConvertKit includes:
It has a very simple & easy to use user interface.
It allows you to create different kinds of landing pages and forms which can be designed pretty well.
Another thing that Convertkit does great is creating beautiful email templates. They allow you to customize anything you see inside your template.
They give you tons of flexibility to change colors, fonts, images, etc.
There's no limit to how creative you can become with your design. This makes it super easy for anyone to start using Convertkit.
It has quite powerful automation and segmentation capabilities.
Not only that, but it gives you complete control over your content.
And on top of all that, excellent customer support.
On the other hand…
What is ActiveCampaign
ActiveCampaign is an oldie-but-goldie. The company behind it started way back in 1999. Since then, their products have grown into something bigger and better.
Their main focus now lies in helping small businesses succeed through digital marketing.
But that doesn't mean they're of no good use for coaches & creators. You can't possibly imagine the things it can do for your business.
It is a robust email marketing platform that helps you grow your email list, nurture leads, automate emails, and track performance. It also includes a CRM so you can manage your clients/customers and relationships.
ActiveCampaign Features:
It has a quite robust & techy user interface which might take you some to understand.
Easy-to-use visual or drag & drop email campaign designer (which you can use to create emails that match with your brand and save them as templates as well)
Powerful email targeting and segmentation options
Pre-built automation workflows to get started easily
Better track your client/customer relationships and always know who you're talking to with the CRM
Landing pages and forms, SMS Marketing, and lead scoring
Both Android and IOS mobile apps where you can keep track of all your contacts and campaigns
Free migration from other email marketing tools
Excellent customer support and a ton of tutorials
Since we've talked about each of them, let's see what makes them different from each other.
Convertkit vs ActiveCampaign
Both ActiveCampaign and ConvertKit are great choices for you, but ActiveCampaign offers some unique features ConvertKit does not.
What also differentiates them is their pricing.
ActiveCampaign's lite plan starts with $15/month for up to 500 subscribers.
On the other hand, ConvertKit does offer a free plan (which is useless as there are no automation and email sequences), but their creator plan starts with $9/month for up to 300 subscribers which is just great & budget-friendly for someone just starting out.
So how do you decide which one is the best for you among ConvertKit vs ActiveCampaign?
Who ConvertKit is For
If you're just starting out with email marketing & sales funnels, have a tight budget, and want to build a successful online business, or a product launch funnel then this is definitely the right choice for you.
Since it has a pretty easy-to-use user interface, so it'll help you get the hang of email marketing, without feeling exhausted if you're not a tech-savvy person.
You'll be able to connect with your tribe and send highly personalized messages to your audience without spending too much time doing it manually.
The fact that it comes with its own landing page builder will also make your job easier and save you some money in the starting stages.
Plus, since it integrates with WordPress, WooCommerce, Shopify, Big Commerce, Magento, Joomla, Drupal, BuddyPress, and more, you won't even need to worry about installing plugins if you already run those platforms.
This is a good email marketing software for you if you're in the subscriber range of 0-3000/4000.
You can easily get a FREE 30-day ConvertKit trial (without any credit card) through our link, which is more than double what they usually offer.
Who ActiveCampaign is For
If you already have some hang of email marketing and sales funnels and want to move to something more advanced, grow your business, and scale with ease, then this is the right platform for you.
If you don't mind having a little bit of technical knowledge, then ActiveCampaign would be perfect for you because it allows you to customize every single aspect of your campaigns.
You can design beautiful email newsletters, landing pages, opt-in boxes, etc., all by yourself.
It does everything that ConvertKit does and much much more.
It'll be perfect for you if you already have an email list of 3000-4000+ subscribers.
Click here to get a FREE 14-Day ActiveCampaign trial and get started easily.
Conclusion
If you're just a beginner, then get started with Convertkit.
And once you reach a certain point (3K-4K subscribers) where you want to scale and grow further, move over to ActiveCampaign.
They offer a free migration service, so they'll move over everything for you without any hassle.
It might just be one of the best decisions you'll ever make in your business and I hope this ConvertKit vs ActiveCampaign post helped you make a clear decision.
Or if you already have an established business and want to just get rid of email marketing, book a free strategy call with us and we'll be happy to discuss how we can grow your business further.