One of the biggest mistakes early-stage businesses make?
Not giving importance to their first 100 customers.
Just wanting to disrupt the market.
Go in all guns blazing.
But here's the thing…
Your first 100 customers can make or break your business.
How?
By helping you ↓
Validate your idea
Find that product-market fit
Set the trajectory of your marketing
That's why you need to get those 100 customers RIGHT.
AND get them FAST.
🤔 Why 'Fast'?
When I said 'fast', it wasn't just to get you to click on the link.
I genuinely meant it and here's why.
You wanna get 'feedback' ASAP.
So you can build on it.
AND you wanna get some social proof, again, FAST… so you can use it in your future marketing.
Your goal should be:
Put in the effort
Get those 100 customers
Collect feedback & social proof
Stop putting in that effort
Build on the feedback and create a full-fledged strategy
Execute
So you wanna go with methods that make the 4th point easier i.e. where you can easily pull out the plug.
But you can't do that with methods like blogging.
Because not only it takes time but you cannot control the output of how a blog post performs.
It could go viral and start bringing in thousands of visitors which you may not be ready for (yet!).
Hence you wanna go with methods that allow you to act, get the output, and cut off faster.
And that's precisely what the methods we're tackling today help you do.
So let's get to the meaty part now.
📧 Outbound/cold email marketing
You'll often hear "Cold emails are dead".
Well, guess what?
Every tactic & strategy is dead for the person who doesn't know how to use it properly.
And cold emailing is probably one of the best & cost-effective ways to get your initial customers in B2B.
(The other two methods below work for both B2B and D2C)
But how do you do it properly?
Here's how. ↓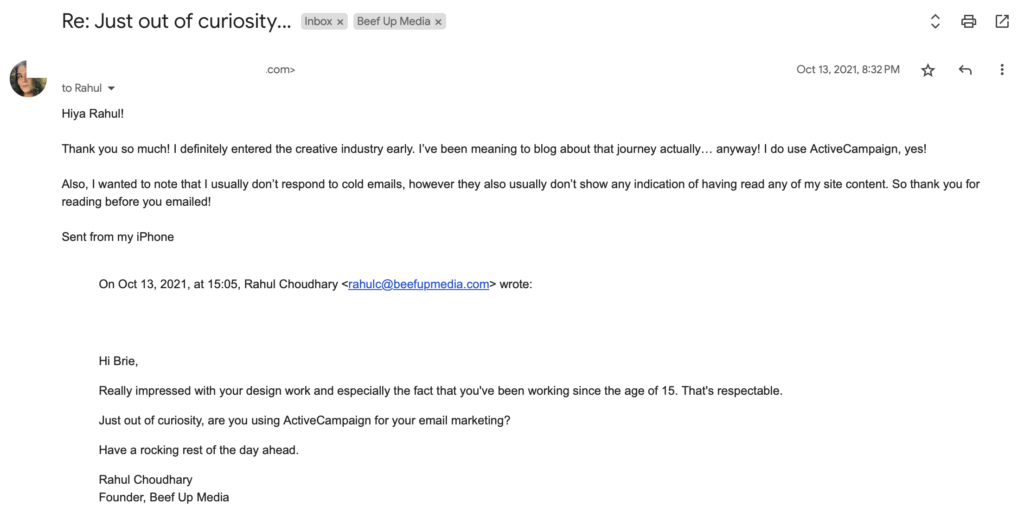 At the bottom is the email I sent to the prospect and at the top is her reply.
(This is from 2021 as I was heavily doing outbound at that time. I had to dig through my inbox to find this example.. as I haven't done it since then!)
I used the same email every time but just changed the first line.
Here's why it worked:
Contextual & personalized
No selling in the first email
Conversational and light of tone
To the point
The goal here was to get a response and initiate a conversation, not to sell.
I already knew they were using ActiveCampaign (my target client at that time), I just wanted them to say yes, and validate it.
You can use this approach to get your competitors' customers too.
(Use tools like BuiltWith or Similarweb to find them)
Ask them "Do you use XYZ for your ____?"
Once they validate themselves, give them an offer they can't refuse.
Period.
Just remember one thing…
don't start emailing anyone and everyone, email fewer people, but email hyper-targeted ones.
🤑 Leveraged audience
This method is still so underrated and underutilized.
I don't even see the top marketers talk about it much.
So, what is a leveraged audience?
I also like to call it OPT i.e. other people's traffic.
Basically leveraging someone else's audience.
It makes sense, right?
Someone has already done the work of creating your target audience.
You just have to get in front of them.
I'm talking about podcasts, influencers, etc.
Getting on just one decent podcast can be so powerful that it could easily bring you 100 customers within a few hours.
(Folks like Russell Brunson have nearly built their empire using this)
Getting just one right influencer to talk about your product can do the same.
Use a tool like Sparktoro to find what influences your target audience and use it to your advantage.
👥 Communities, Events, Forums, FB Groups, etc.
You've often heard me saying…
There's a forum, subreddit, community, or FB group for nearly everything.
(Even the weirdest ones!)
Every interest, every topic… a place where people aggregate and talk about stuff, share their problems, etc.
A simple Google search will lead you to it.
After that, just put a few posts out there and be transparent about what you need.
Yes, it doesn't get complicated or fancier than that.
Most people just assume that if it's so simple it wouldn't work.
But guess what?
That's the beauty of it.
Marketing isn't about complicated stuff.
It's about getting in front of the right people in the right place at the right time with the right message.
Damn. I love my poetic self.
Also read: 11 questions to know your target customers better
🧠 Keep in Mind
Again, your goal isn't to go viral or start generating 1000s of visitors yet.
It's to get those 100 customers. Get them fast. Stop putting in the effort.
And even though this may require quite some manual work…
The insight you gain from those 100 customers is gonna be gold.
It can shape your business & marketing for the good.
---
Found this article helpful?
Find more golden nuggets to level up your marketing and stay ahead of the curve by signing up for The Marketing Fundamentals Newsletter (FREE).